Guest Spotlight: Jenny Holding Reviews the New Sapele Cheese Slicer
Sapele Cheese Slicer Product Review
As a frequent host of dinner parties I could never have enough versatile serving boards on hand. I received the Sapele Cheese Slicer as a gift at my bridal shower. At first glance, I thought it was rather small and was more impressed with the hand crafted design and look of the American maple and sapele wood combination. I also knew it would come in handy for smaller dinner parties or for a night of cheese and wine with my fiance.
With St. Patrick's Day right around the corner, the Sapele Cheese Slicer saved the day when I wanted to surprise my fiance with a themed dinner. Pastrami sandwiches were on the menu and I needed to slice a block of dill havarti cheese into thin square slices. I first tried using my hand held cheese slicer but I was unable to create the width I needed so I grabbed my Sapele Cheese Slicer. The built-in wire made it incredibly easy to slice my cheese into perfect sandwich squares.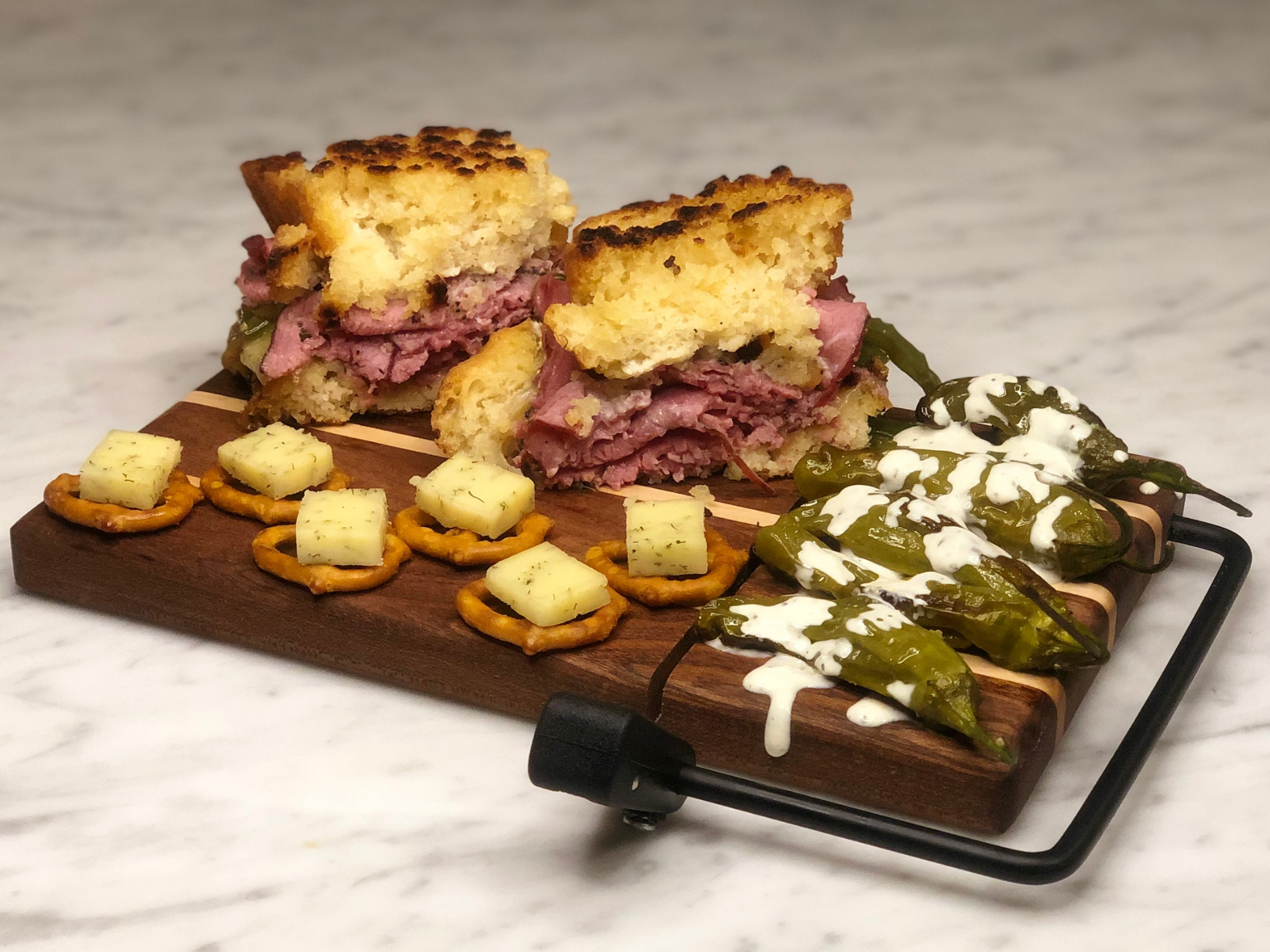 Photo by Jenny Holding
Don't Be Fooled By Its Size
While my beer bread was baking in the oven, I was curious about the many different ways cheese could be displayed on the Sapele Cheese Slicer board because of its size. The board is only 6" x 9.5" and in order to offer a variety of cheeses you'd have to be able to create different shapes with the cheese slicer. As a host, I like to be prepared when my guests arrive and can offer them something to snack on while I put together the rest of the entree. A cheese board with crackers, nuts, and fruit always pairs great with a pre-dinner cocktail and is convenient to put together before guests arrive. I mean, you don't want to cut the cheese in front of your guests, right? The design of the Sapele Cheese Slicer makes it simple to create a smaller cheeseboard if you are short on time and want to make a good impression with your guests.
I played with the cheese slicer and quickly created cheese cubes, triangles, and squares in rapid time. After I mastered my cheese shapes I set them aside to make room for my freshly baked bread. To be honest, I needed to stop snacking too. I did not use the built-in wire to slice the bread but the board made for an ideal surface to cut the bread for the pastrami sandwiches.
Cleaning Peace of Mind
While I was making my cheese slices I noticed that the groove below the wire catches cheese shavings. I was concerned that the cheese stuck in the groove would be difficult to clean out, however when I rinsed the groove with water it came out effortlessly. I used dish soap and a gentle sponge to clean the board and set it aside to dry. Once the board was completely dry, I applied a dollop of my food grade mineral oil to the Sapele Cheese Slicer board and generously coated the board on all sides using a clean kitchen towel and let the board sit overnight.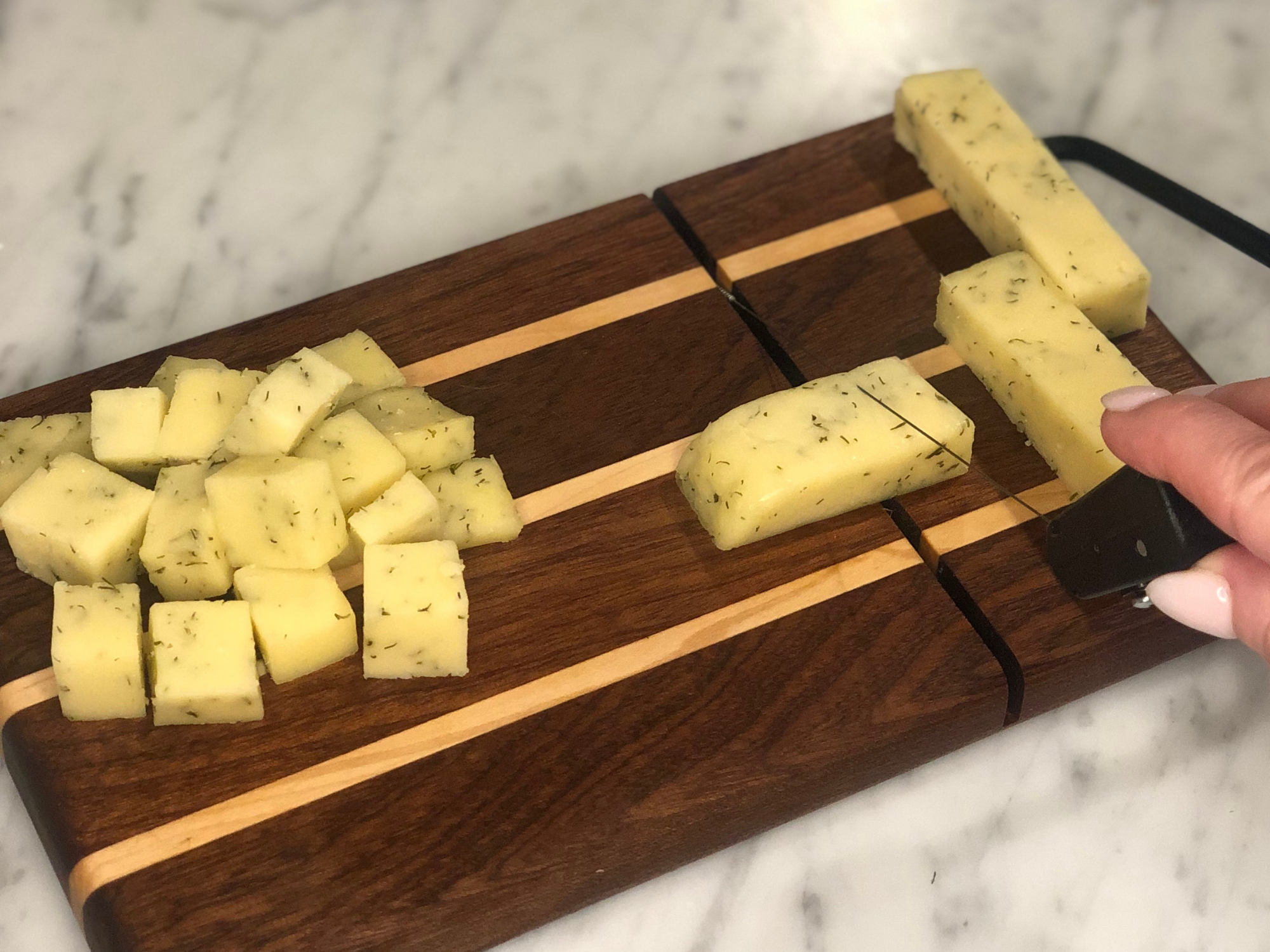 Photo by Jenny Holding
In Queso Didn't Know
I am extremely impressed with the Sapele Cheese Slicer board. The convenience of its features and the look of the beautiful wood has made it my go to board for entertaining. I even served the pastrami sandwich to my fiance directly on the board. Afterall, it's not the size of the board, it's how you use it.
-
Want to know more about ordering, personalized engraving, and all things Nautical Boards? Connect with us here.