Spooky & Sweet Halloween Treats to Serve on Your Nautical Serving Board
These Halloween treats are easy and delicious plus they're a great activity for kids (and adults). We put a spooky spin on basic everyday treats such as mini donuts, rainbow sherbert, and rice krispies that turned out to be just as delicious as they were cute. All you need are simple store bought ingredients, a few hours one Sunday afternoon, Hocus Pocus playing in the background, and you've found yourself a new family tradition.
This Halloween, make sure to set aside some time for a fun filled activity that might be a little less messy than carving pumpkins- and a bit sweeter! Before you begin, beware of sticky hands and food coloring (don't worry, it's not blood). The best part about these treats is that you can get creative and make them your own. So get those creative juices flowing and see what spooky characters you can dream up, but for now read along to see what we made!
DIY Polyjuice Potion
Calling all Harry Potter Fans! Finally time to put your potion making skills to the test (minus the Half Blood Prince's Potion Book). While this recipe probably won't turn you into a different person, this delicious treat is fun to make and sip on once you're done. Time to blast the Harry Potter theme song and brew some delicious potions with the fam- but make sure Snape doesn't catch you!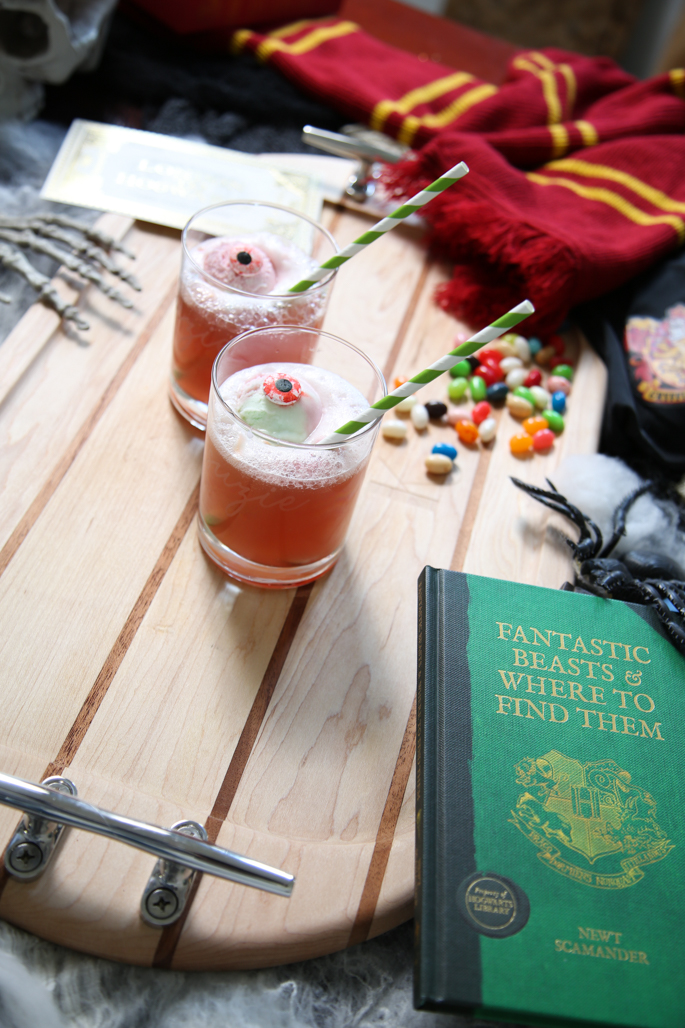 Ingredients
Lime Sherbert (½ gallon)
Sprite (2 Liters)
Food coloring of your choice (we used red)
Garnish: Candy googly eyes
Instructions
Place all the sherbert in a large punch bowl
Slowly pour 2 liters of Sprite into the bowl (it will bubble and foam)
Sprinkle in a few drops of food coloring until you achieve your desired color
Small batch
Place a scoop of sherbert in a glass
Pour sprite over the sherbert to the top of the glass
Sprinkle in a few drops of food coloring
Add a fun straw and googly eyes on top of the sherbert for a garnish!
Chocolate Doughnut Bats
Who knew bats could be so sweet? These chocolatey bats are simple and satisfy any sweet tooth. These bats are easy to make with minimal mess and wont be able to hide in the attic. The best part about chocolate doughnut bats bats is that they have no way to fly away when you get hungry and reach for one.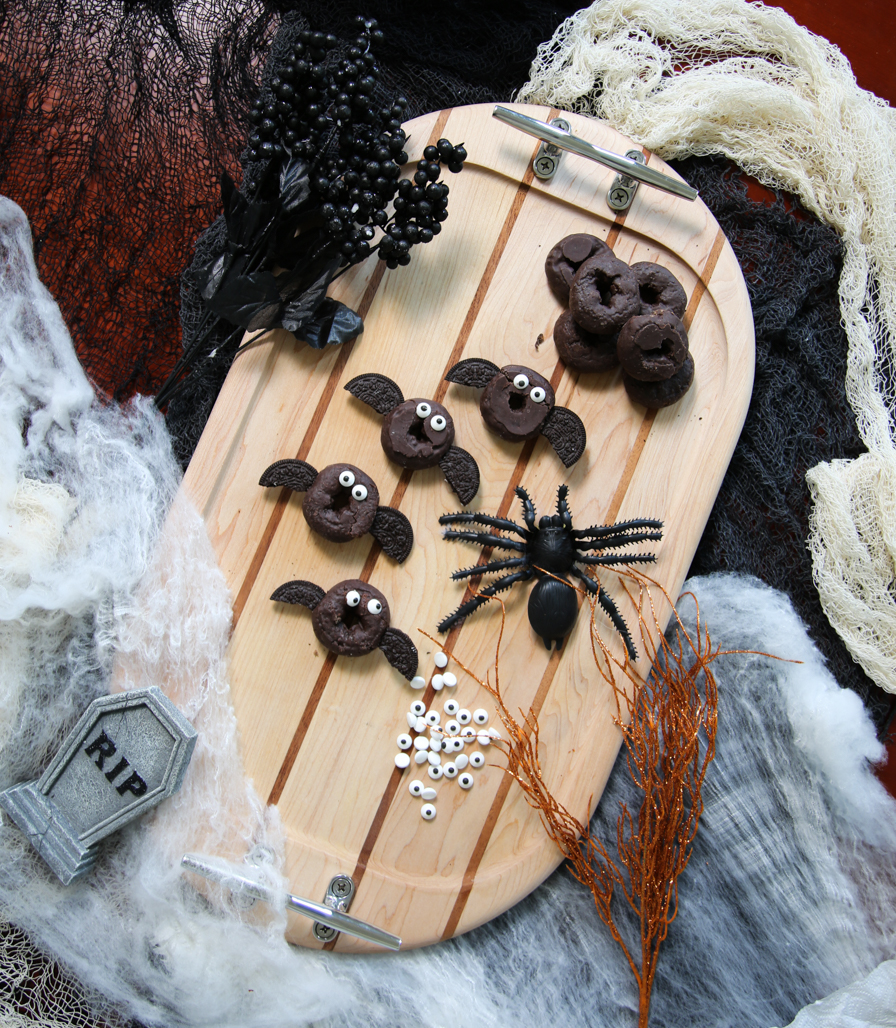 Ingredients:
1 bag of Mini Chocolate Doughnuts
1 pack of mini candy eyes
1 pack of Oreos
1 small tube of white icing
Instructions
Remove the desired amount of doughnuts from your bag
Separate Oreos and remove the icing until you have several plain cookie wafers
Cut or break one Oreo cookie wafer in have to create 2 semi-circle "bat wings"
Gently stick semi circle Oreo wings into the each side of the doughnut
Place 2 eyes on the Oreo with a touch of icing to secure them
Serve and eat!
Spooky Rice Krispie Mummies
Bring the mummies to life this Halloween with a little sugar, spice, and everything nice. We all love a Rice Krispie treat, but something about a spooky Rice Krispie treat during the month of October is so much better. Even better, the cutest mummies you've ever seen are also deliciously addicting. Our Spooky Rice Krispie Mummies require very few ingredients and only take a few minutes to make. Be careful, melted marshmallows may be as sticky as super glue, but will make for an awesome dessert.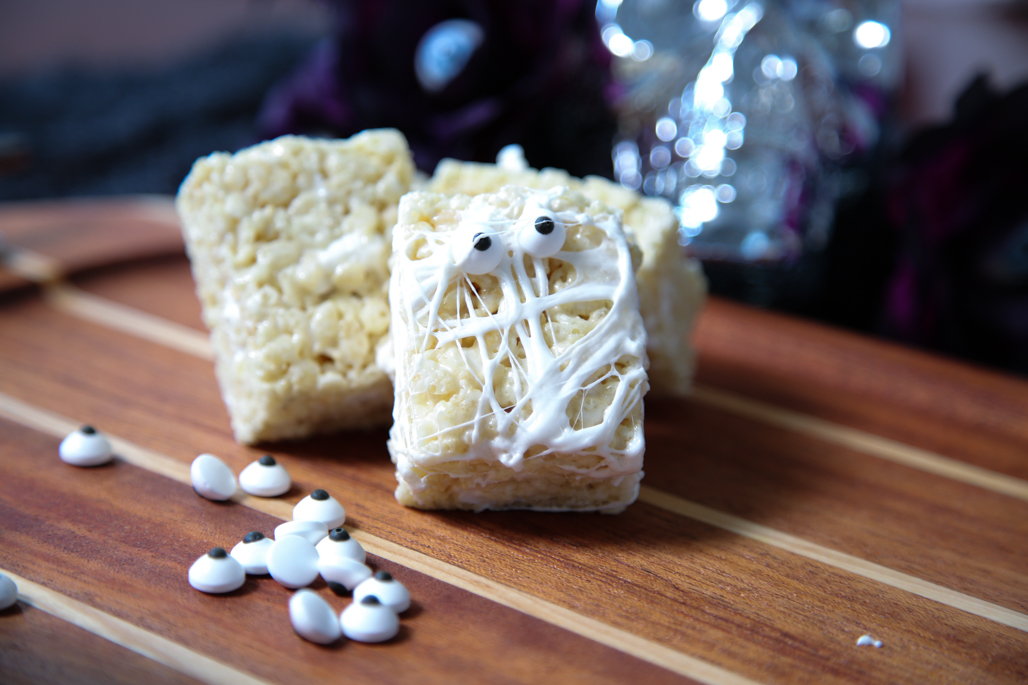 Ingredients:
1 Box of Pre-made Mini Rice Krispie Treats
16 oz bag of mini marshmallows
Candy Eyes
Instructions:
Open up mini Rice Krispie treats and place on a serving tray (with parchment paper to avoid a mess)
Pour mini marshmallows into a bowl
Microwave marshmallows for around 20 seconds until they are all melted and soft
Let the marshmallows cool for a few minutes
Optional: Use gloves or extra clean hands and stretch melted marshmallow over the Rice Krispie to appear as mummy wrappings
Place candy eyes on the mummies
Enjoy!
What to do when the treats are done?
Once the DIY desserts are done, you'll probably want to keep the party going (and keep up the sugar high). Here are a few ideas for fun Halloween events!
Halloween Movie Night
Walk around the neighborhood and look at Halloween decorations
Tell ghost stories around the fire
Devour them (DUH!)